★ Horikiri-Shobuendori Business Association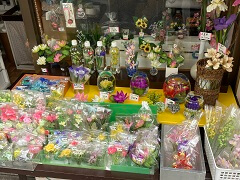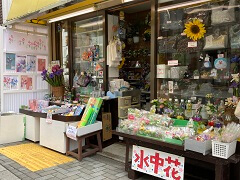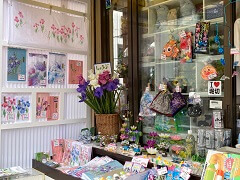 June 14, 2022
Fancy Shop Ota
It is the season of iris. The flowers in Horikiri Shobuen are at their best. We have a variety of colorful products including our original underwater flowers, decorative flowers, and handkerchiefs. Please stop by when you visit the iris garden.
<Flowers in Water>
Iris flowers, roses, water lilies, cassia, etc. ¥100-¥450 Fill water in plastic bottles or glass containers for a beautiful decoration. open daily until June 30.
Why not decorate your room with artificial flowers? We have frames, bags and other items perfect for going out. We also have stationery for children. We look forward to seeing you soon!
|Phone number:03-3697-6836
|Address: 2-34-4 Horikiri, Katsushika-ku
|Business Hours:10:00~18:00
|Regular holidays:non-scheduled holiday
---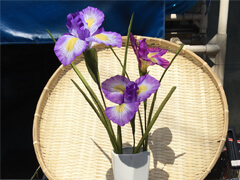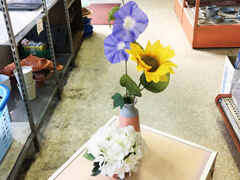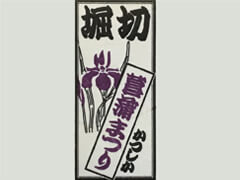 June 3, 2022
Nakanoshoten
Horikiri Iris Festival has started.
In conjunction with the Horikiri Shobu Matsuri, we have a variety of artificial summer flowers such as irises, sunflowers, morning glories, and hydrangeas.
We recommend them as souvenirs for the Horikiri Iris Festival or as interior decorations for your rooms.
During the festival, Senja-fuda stickers will be attached.
We will be open on Sundays until June 19. (We will be open on Sundays until June 19 (closed on Tuesdays in lieu of Sundays).
We have a wide variety of easy-to-use kitchen and household utensils, including pickled plum colanders. We also have a wide variety of cigarettes, which is rare in this day and age! We look forward to serving you.
|Phone number:03-3691-3385
|Address: 2-33-1 Horikiri, Katsushika-ku
|Business Hours:8:00~18:00
|Regular holidays:Sunday
|Katsushika Ward common gift certificate:〇
---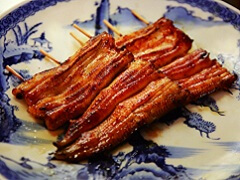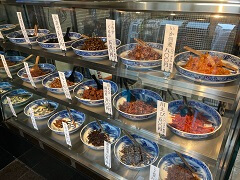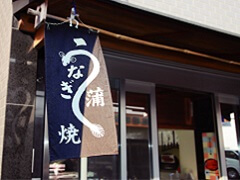 April 25, 2022
Kawauo Funashin
Sparing no pains to serve river fish
Located halfway between the station and Horikiri-Shobuen, the store is tucked away in the Shobuen-dori Shouwakai shopping street.
It is a store specializing in broiled eel and tsukudani (food boiled in soy sauce) to-go. Eels are carefully cut and grilled over binchotan charcoal.
We grill eel only after receiving your order, so please call us to make a reservation so that we can prepare freshly grilled eel.
Our tsukudani is made from river shrimp and small fish caught by a relative's fisherman using techniques handed down from generation to generation, and is prepared with the utmost care, respecting the season and the flavor of the ingredients.
|Phone number:03-3695-0384
|Address: 2-34-2 Horikiri, Katsushika-ku
|Business Hours:10:00~19:00
|Regular holidays:Tuesday
|Katsushika Ward common gift certificate:〇
---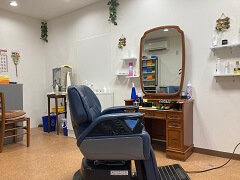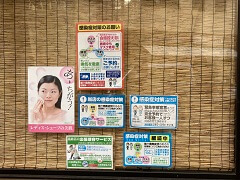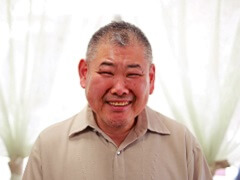 2022年4月25日
Hair Salon Ishii
We are a barbershop in town with one-on-one customer service and by appointment only.
We treat our customers so that they feel at ease.
We look forward to serving you.
Our menu includes general haircut, cold perm, iron perm, hair dye, and women's face shaving.
Wheelchair-accessible haircuts are also available.
Please feel free to call us for an appointment.
|Phone number:080-5056-4498
|Address: 2-34-5 Horikiri, Katsushika-ku
|Business Hours:9:00~18:00(16:00Last Reception Time)
|Regular holidays:Mondays, 2nd and 3rd Tuesdays (consecutive holidays)