Introduction to Horikiri
Horikri Shobuen

In the Edo period (1603-1868), iris gardens emerged in the Horikiri area as a tourist attraction, and since then, several iris gardens have flourished in the area. The current Horikiri Shobuen is based on a part of the Horikiri Garden, which was the only one to be restored after the war. Inside the park, there is the Seikan-tei, where you can enjoy the garden while having a coffee or dinner.
The iris garden, where irises are at their best from early to mid-June, is one of the tourist attractions in Katsushika Ward. Other seasonal flowers such as plum blossoms, wisteria, winter cherry blossoms, and peonies can also be seen.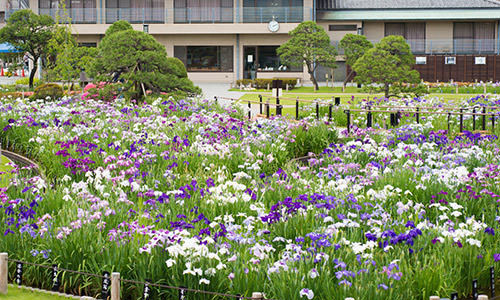 Horikiri Mizube Koen

Horikiri Waterfront Park is a park located on the banks of the Arakawa River. In addition to the Horikiri Shobuen boat landing, there is an iris field and a flower field for the Arakawa Hana Filled Campaign. The Horikiri Shobuen boat landing is located in the park.
You can enjoy the irises from the end of May to mid-June every year.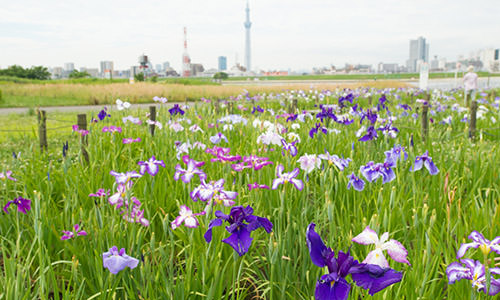 Horikiri Iris Festival

The Horikiri Shobuen Garden, which was included in the "One Hundred Views of Edo" in the Edo period (1603-1868) and appeared in ukiyoe woodblock prints, is still known as a famous place for irises as it was in the past. About 200 species and 6,000 irises are planted in the large garden along the Ayase River, and the beautiful flowers bloom beautifully in June. During the Katsushika Iris Festival held during the flowering season, various events are held, including taiko and koto performances, tea ceremonies, and a parade.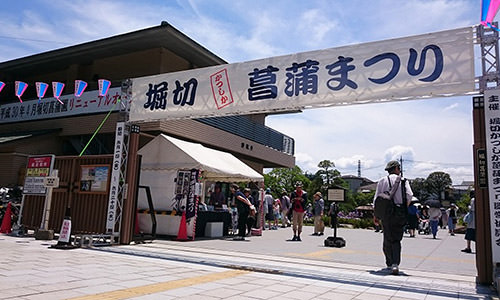 Shobu Hukushichijin & Horikiri Junishijin

There was a pond called "Kemashiike" here, and when the pond was reclaimed in 1926, the "Benten Shrine" was built, and in 1994, the "Seven Shobu Gods of Good Fortune" were erected to wish for more prosperity for Horikiri. In the back of the building, there is the Horikiri Twelve Chinese Zodiac Gods, a fusion of Eastern and Western cultures.
Both the Seven Gods of Good Fortune and the Twelve Chinese Zodiac Signs can be enjoyed not only for their historical value as a branch shrine of the Tenju Shrine, but also as a piece of art.